With iridescent reefs, coral-encrusted walls and myriad marine life, Tobago is one of the Caribbean's premier diving destinations. Here are nine of its best underwater sites to discover…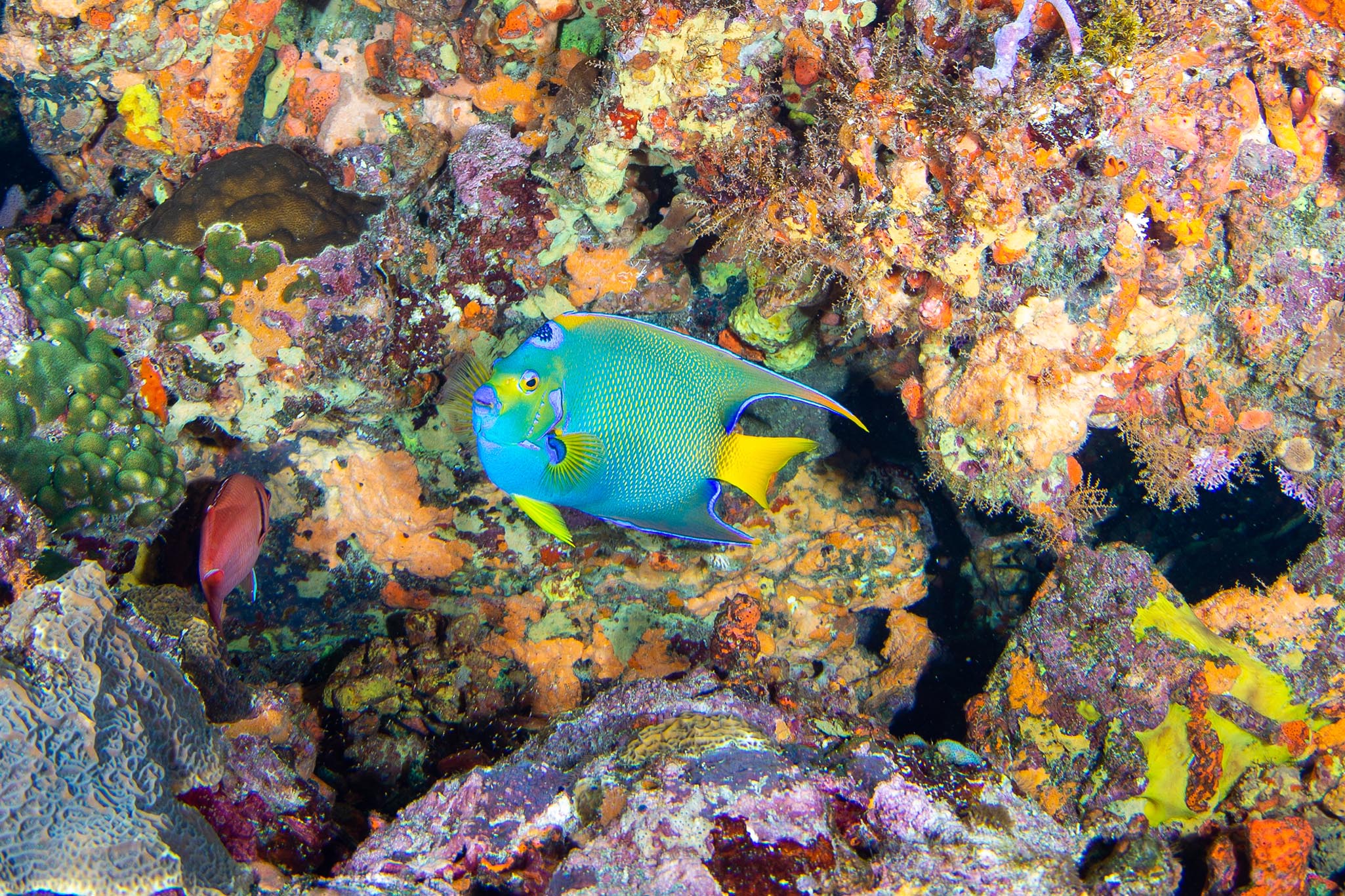 Thanks to its shallow waters and millpond-like current, Kariwak Reef is a great starting point for novice divers. Within just a few fin strokes of the beach at Store Bay you'll come across neon-tinted coral outcrops filled with tropical fish like angel, scorpion, trumpet and lizard fish. Despite its proximity to the shore, you'll also swim past plenty of larger marine creatures like moray eels, spotted eagle rays or even an octopus. Keep an eye out for red gurnards 'walking' along the sandy floor, one of the reef's more curious sights. The fact Kariwak Reef is easily navigable also makes it ideal for night dives, where the ink-black waters are illuminated by the vivid colours of fire coral and Christmas tree worms.
2. Mount Irvine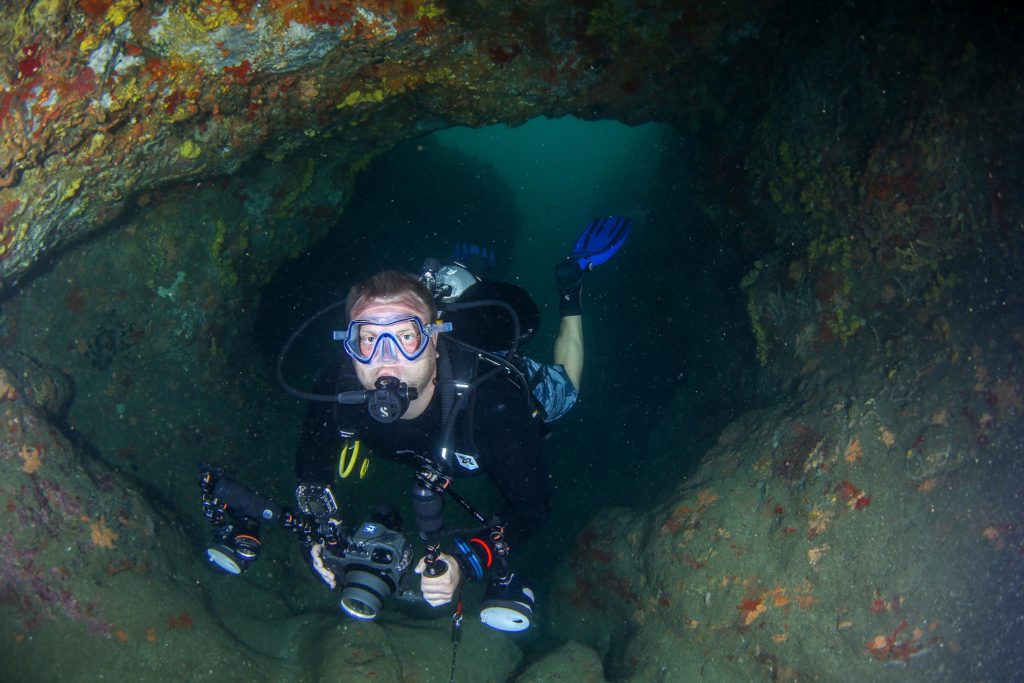 Comprising a collection of dive sites, Mount Irvine offers plenty for qualified divers of all abilities. The Wall is the shallowest and the most well-known, a coral-encrusted rockface pocked with crimson-coated crevices where the likes of spiny lobsters, crabs and short-nosed batfish love to peek out from, while larger life like stingrays, eagle rays and sea turtles glide the surrounding waters. For more advanced divers, the deeper Extension may prove to be an even greater lure, a crayon-coloured coral reef which traces the rocky outcrops from Mount Irvine Bay and is home to large tarpon, hawksbill turtles, groupers, snappers and spotted eagle rays – the latter is skittish but can be spotted in pairs here if divers are discreet.
3. MV Maverick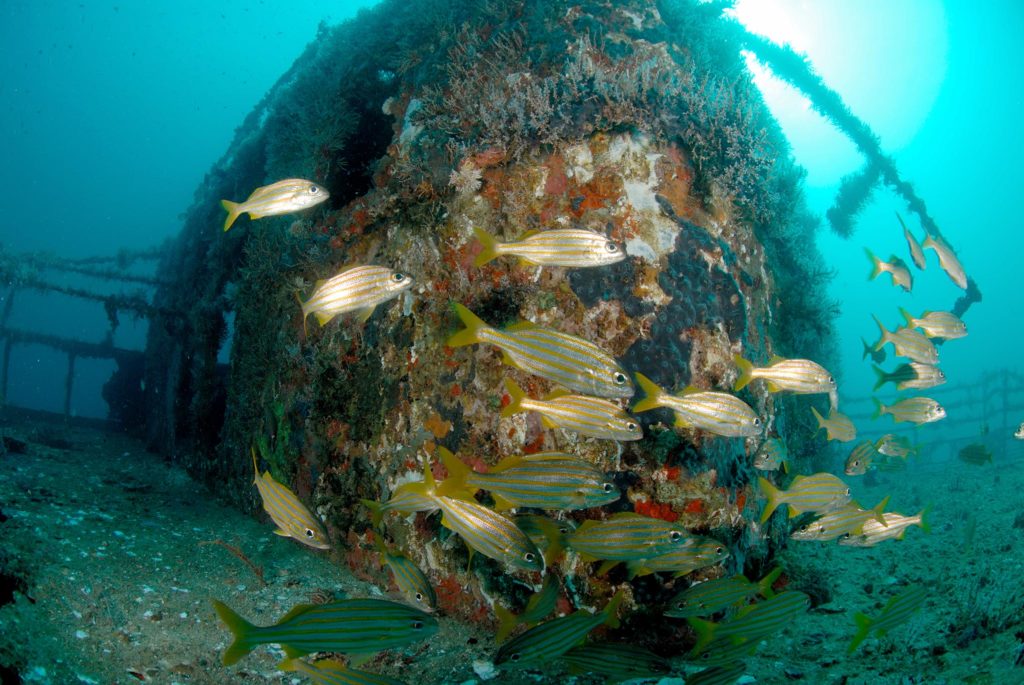 A former ferry which used to transport cars and passengers between the islands of Trinidad and Tobago, it was deliberately sunk off Rocky Point in 1997 to start a new life as an artificial reef. Go and explore it today and it's staggering to witness how marine life has claimed the ship and made her their own landmark, completely covering it in coral and coming alive with huge schools of fish like barracuda, cobia and kingfish, as well as turtles and rays. Weave your way through the ferry's skeleton and you'll discover life carries on within, with reef-building crabs, sennet fish and clams busying themselves among the thick layer of rainbow-hued coral.
4. Arnos Vale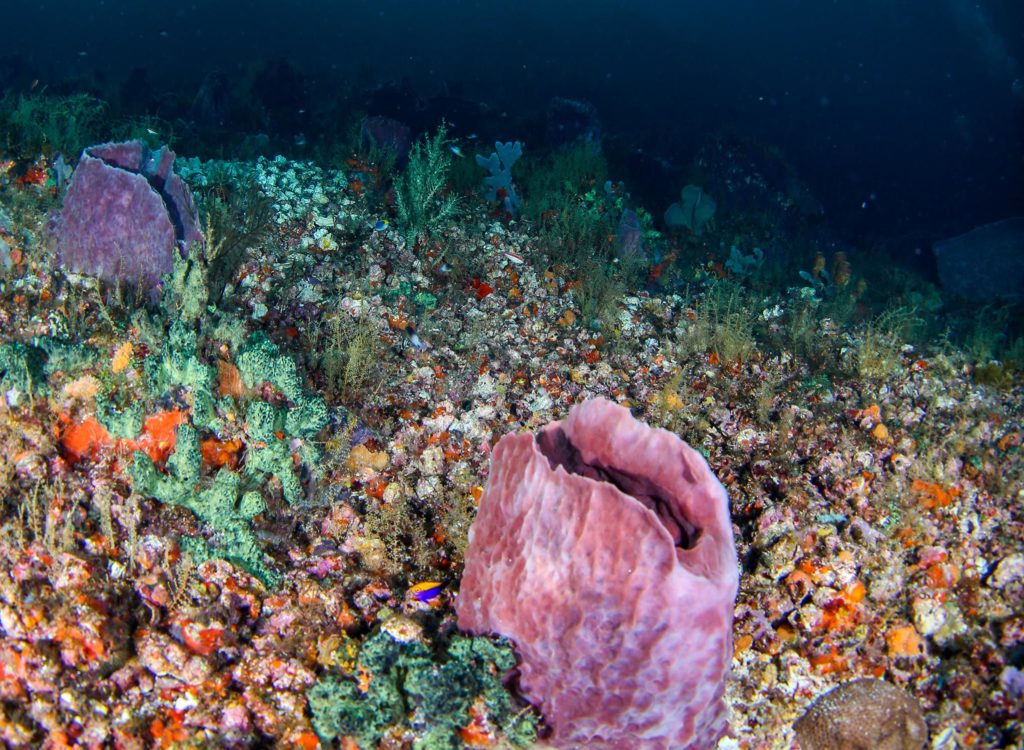 The profusion of kaleidoscopic coral found at Arnos Vale is akin to a paintbox being tipped over the sea bed, such is the rich variety of red, purples, oranges and yellows that cover the beguiling rock formations. The fact it's a shallow dive – up to about 15m in depth – makes it all the more enticing, ensuring the resident juvenile fish, moray eels and lobsters are far easier to spot. If you have a waterproof camera then make sure you pack it just to capture Arnos Vale's pristine coral and marine life up close – it's known as one of the best places in Tobago for underwater photography.
5. Flying reef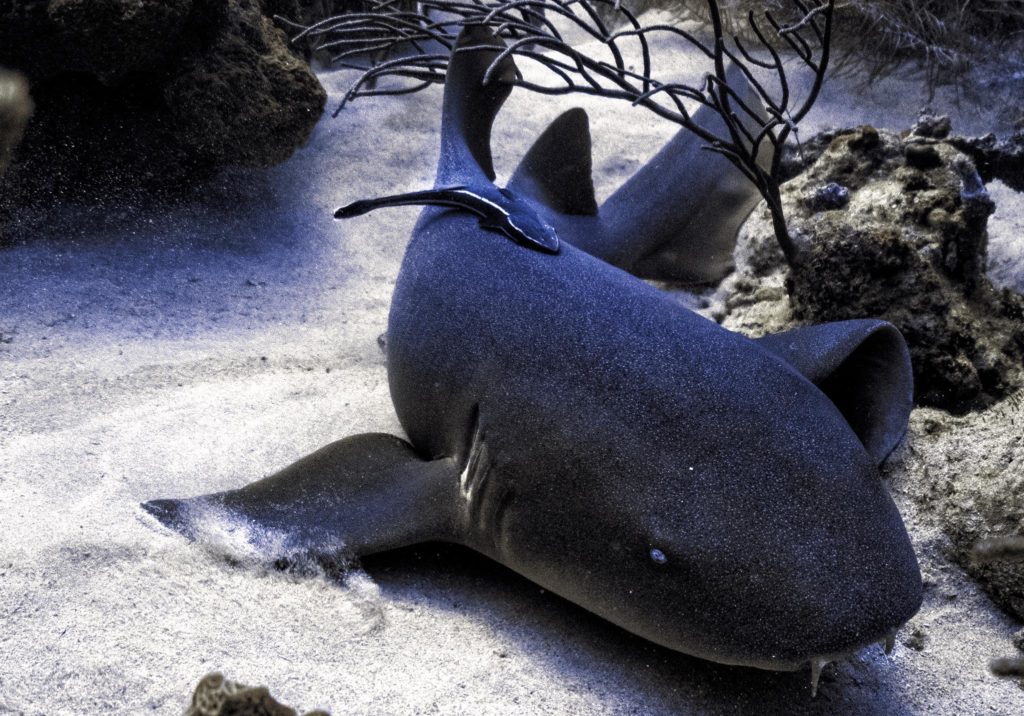 Tobago is famed for its array of drift dives and while they're usually reserved for technically adept divers, Flying Reef is a good entry point if you want to see what they're like. Reached via a short boat ride from the acclaimed beaches of Pigeon Point, its shallow depth is belied by the sheer variety of corals, sponges and reef fish you can see as you drift through the reef, with giant colonies of plate coral the star attraction. The vast numbers of fish you'll see is also astounding, with the likes of glasseye snapper, porcupine fish and the elusive cornetfish among the many you can spy. Nurse and black-tipped reef sharks and sting and electric rays are also in abundance. Not a bad introduction for drift diving beginners.
6. Kelleston Drain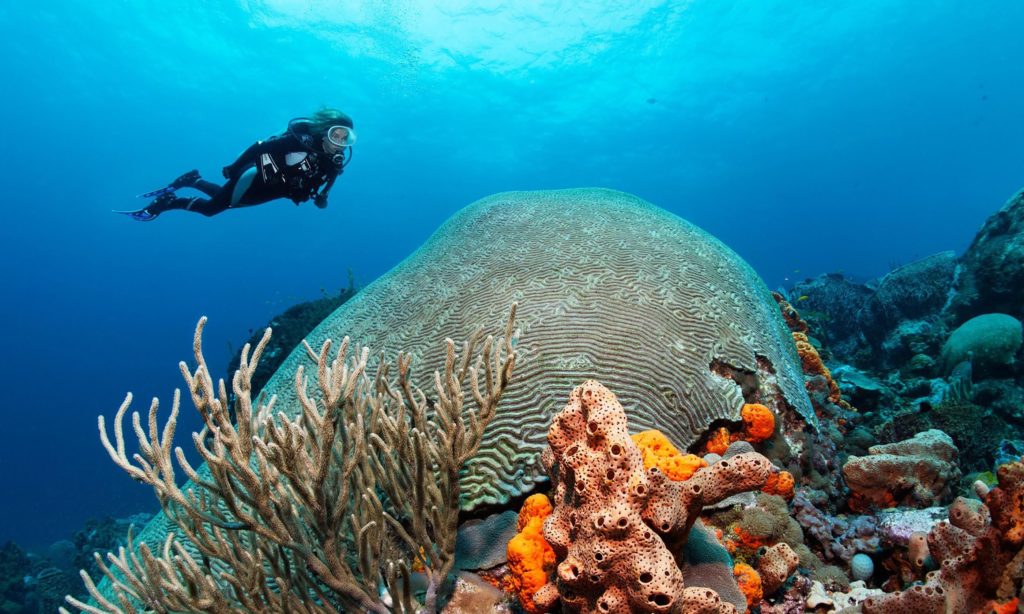 A drift dive found not far from the coast of Little Tobago, Kelleston Drain is home to arguably Tobago's finest underwater sight. Follow a vast plain of coral, bursting with vivid sponges, branching corals and sea fans, whips and rods before an underwater drop-off leads you down a slope to an enormous brain coral. Measuring 16ft wide, it's the largest recorded one of its kind in the world and while it's genuinely an eye-popping sight to gasp at, it's also extremely fragile, comprising millions of tiny coral animals. Having reputedly grown over several centuries, this feat of nature deserves a group of protectors and it does: you'll be joined by green moray eels and nurse and reef sharks who patrol the waters around it. Dive this spot and you might be lucky to come across visiting manta rays, too.
7. Japanese Garden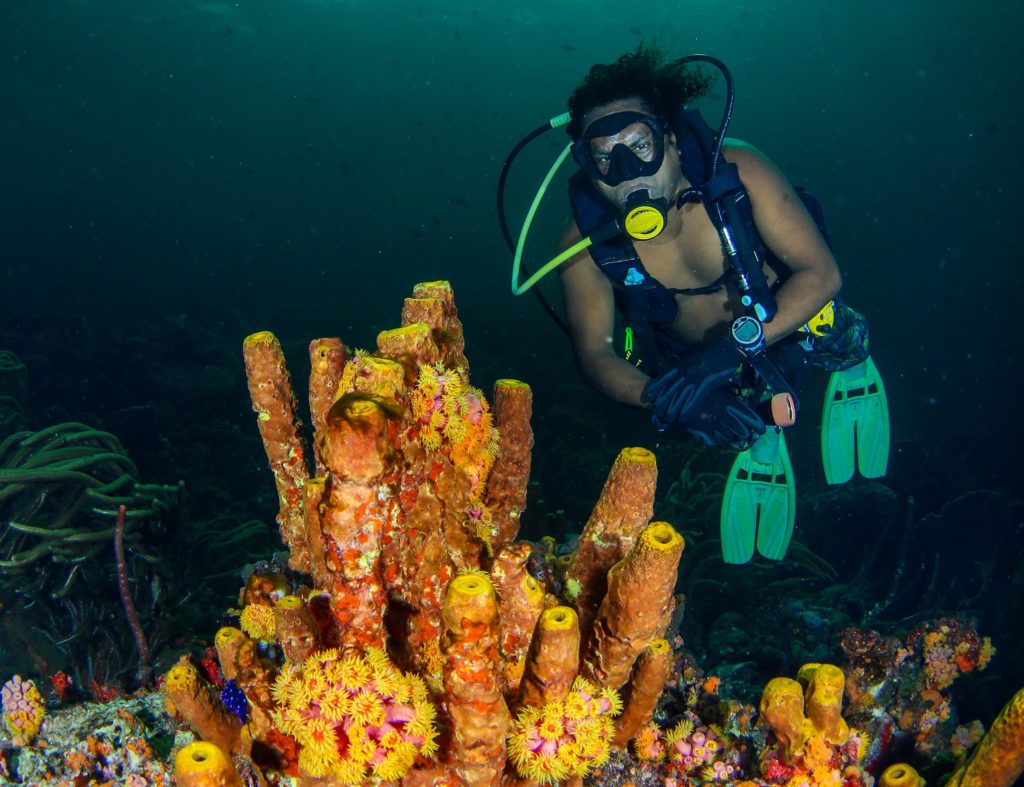 After only a few moments into your dive at the Japanese Gardens, you'll cotton on to how it earned its name. The huge wealth of coral and sponges on display, from red, yellow and orange tube sponges to lavender-hued rope sponges and brown barrel sponges, means swimming through this otherworldly dive site is like discovering a secret underwater garden. Found off the southern tip of Goat Island, you'll glide among clouds of angelfish, trunkfish, electric-blue chromis and banded coral shrimps hiding among the barrel sponges, while turtles paddle above. If you want maximum pleasure for minimum effort, the current (which can be quite strong) of the Kamikaze Cut is like joining an underwater lazy river, where you can wave at jacks and nurse sharks as you pass them by.
8. The Sisters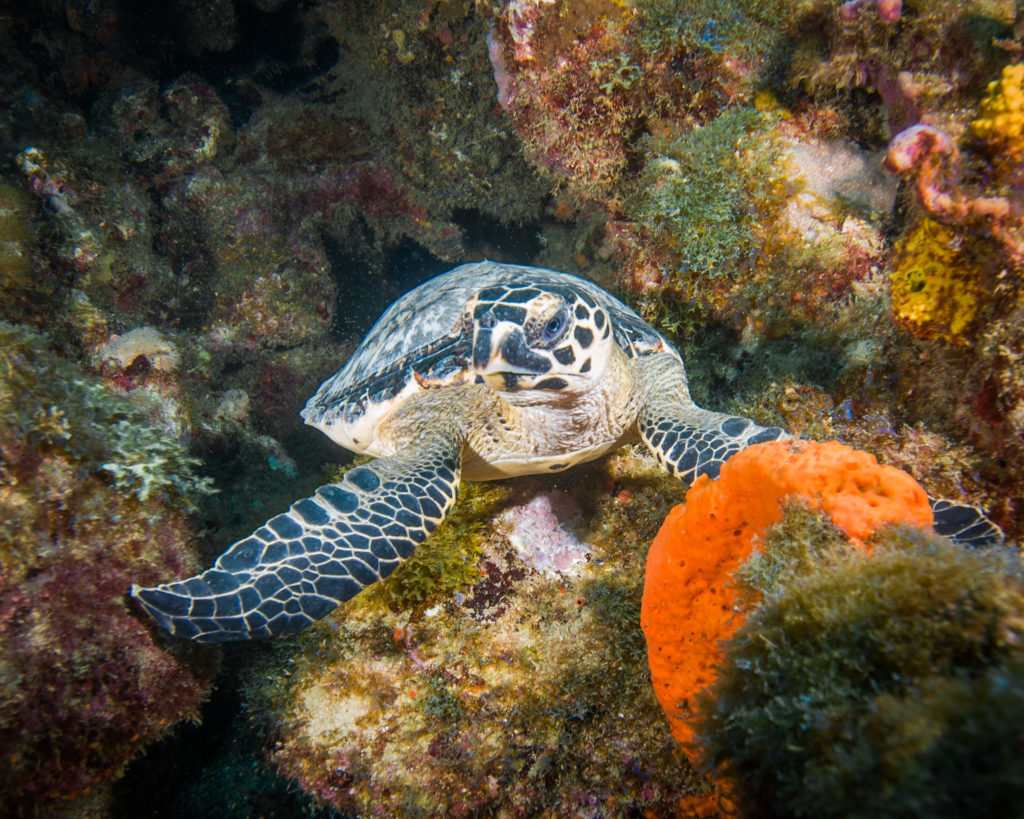 Owing its name to the five rocky pinnacles which rise up over 70m from the ocean floor, even peeking their heads above the surface, The Sisters, which you can spot from the shores of Bloody Bay, would be a fascinating place to dive even without any life. But rich marine life there is, as colourful coral clings to their slopes and turtles, rays and all manner of exotic fish flit between the pinnacles. The boulders lying on the sandy seabed are favourable hiding spots for moray eels and lobsters. But the bucket-list draw isn't any of these, it's the hammerhead sharks drawn here in impressive numbers when the waters are cooler during winter, especially when you consider they're something of a rarity in the southern half of the Caribbean.
9. Diver's Dream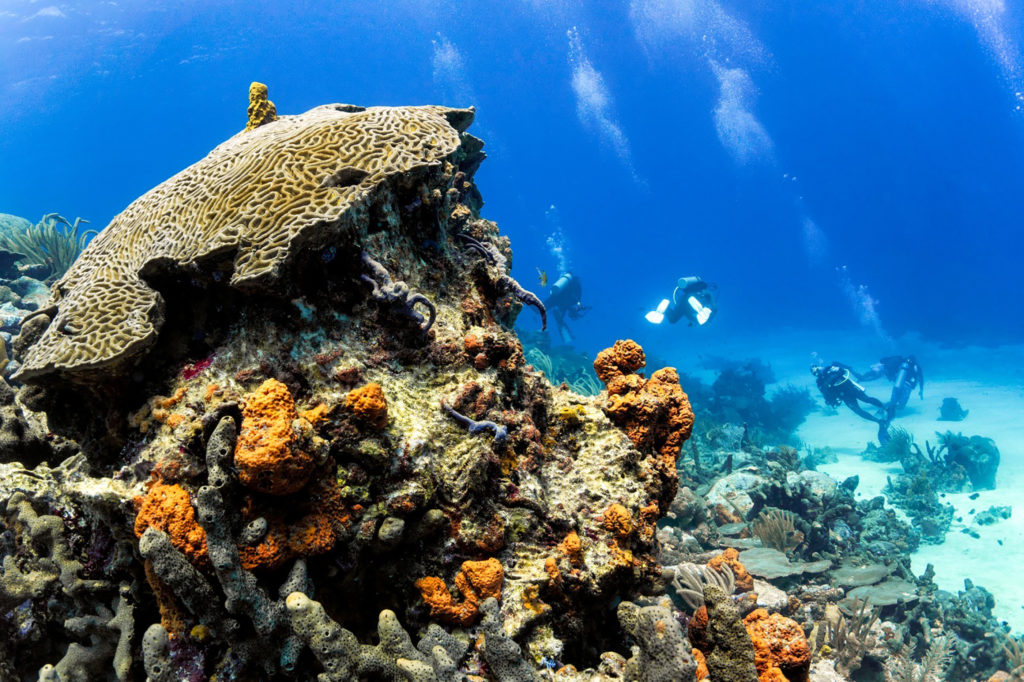 With a name like Diver's Dream, you'd expect it to be an underwater world like few others. Thankfully, it lives up to its moniker as elaborate gorgonian corals wow you with their intricacy and barrel sponges grow up to 6ft tall (the height of an average man), sculpted by the current into a range of weird and wonderful shapes. The strong current means this dive site should only be attempted by experienced divers but those who venture this far (Diver's Dream lies four miles from Tobago's south coast) will come nose-to-fin with black-tipped reef sharks and eagle rays. If you're really lucky, you may even catch a glimpse of a bull or tiger shark swimming by.