At around 40km long and 10km wide, Tobago's diminutive size lends itself to being explored any number of thrilling ways. It's time to ditch the taxi and hire a bicycle or car, lace up your walking boots or even paddle its waters. Here are seven adventurous ways to explore the island…
By cycling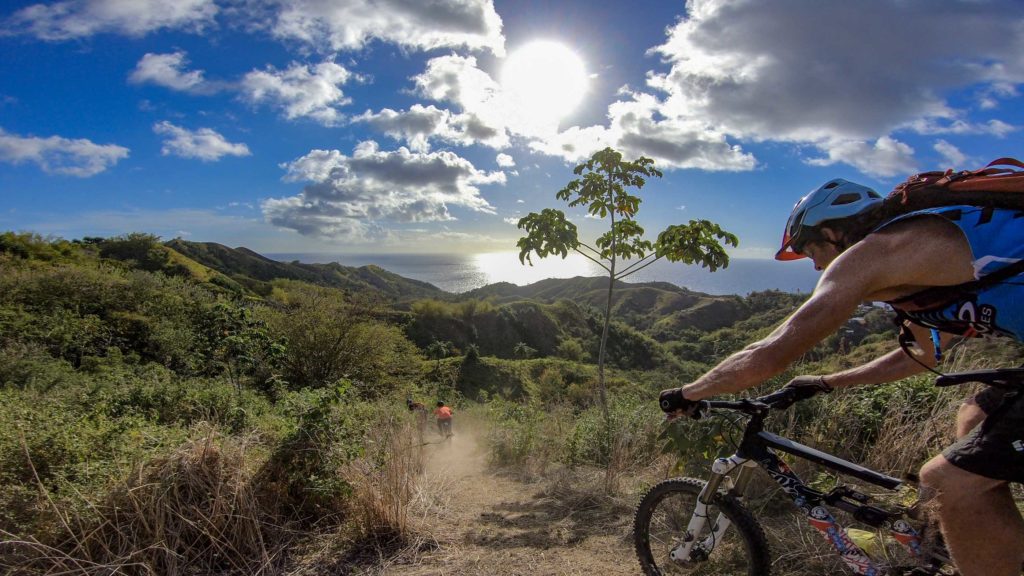 Chala's Trail
If you want to experience Tobago like a local, there aren't many better ways than by pedalling the Chala's Trail. Created by villagers to access their homes, this single dusty track weaves through pristine rainforest and is regarded as one of the best short-distance trails on the island. It's best accessed via a short Jeep road climb, before the fun begins as you whizz along the trail. Another local track lies above the village of Black Rock, which connects the two hillside villages of Whim and Bethel. It's much faster than Chala's Trail but is unique in the fact it serves up widescreen views of both Tobago's windward and leeward sides.
 Elvis Goats
Even though there are plenty of mountain bike trails to satisfy all abilities in Tobago, Elvis Goats is one for those who are after something a little more testing. It's just one of many tricky trails found weaving the emerald jungle of Main Ridge Forest Reserve (the oldest protected forest reserve in the western hemisphere), straddling a rocky ridge (175m) high above the village of Culloden. As Elvis Goats traverses several lush rolling hills along the way, you'll pedal plenty of single-track ascents and descents that require decent technical ability, ensuring a thrilling ride for even the most experienced of cyclists. Elvis Goats is also easily combinable with other trails like Chubbies, Greedy's and Sweet Man Hill.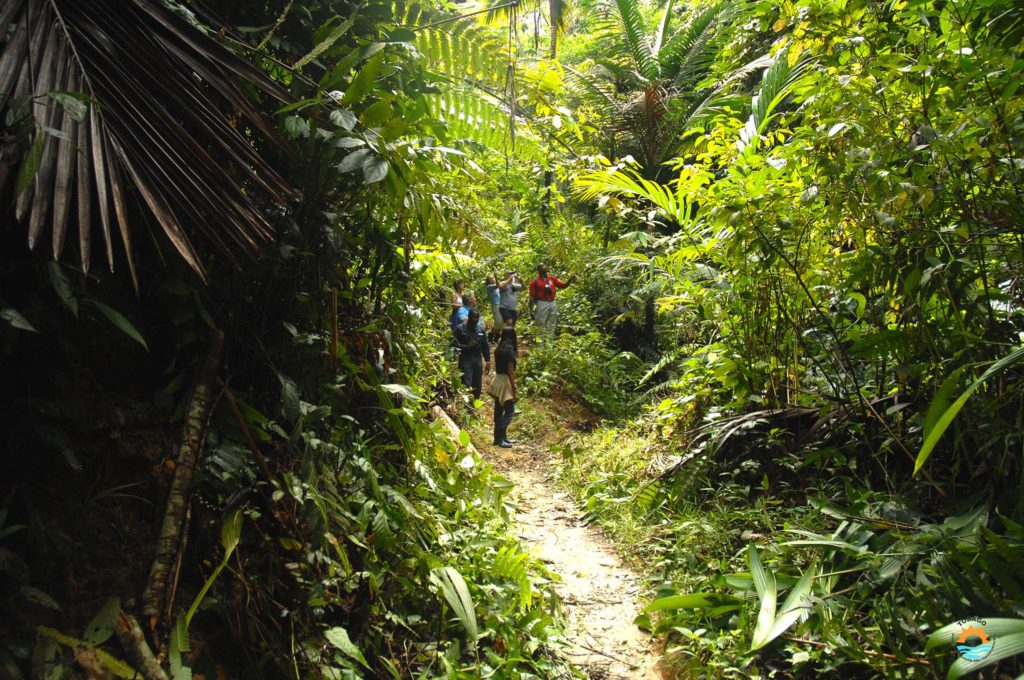 Gilpin Trace
If you only have enough time for one hike in Tobago, make it the two-hour Gilpin Trace trail. Slicing right through the core of the ancient Main Ridge Forest Reserve, it's like a front-row view of Tobago's verdant jungle interior and the rich wildlife that inhabits it. Keep your eyes peeled for agoutis, snakes, lizards and armadillos as you tread through its forested highlands; hiring a local guide will give you an even greater chance of spotting them. The reserve's canopies are also alive with an array of birdlife, too, including six species of hummingbird, the rufous-vented chachalaca (Tobago's national bird) and the white-tailed sabrewing, the latter of which can only be spotted in one other place in the world. With the terrain fairly flat and easy-going along the entire route, it's well-suited for walkers of all abilities.
Pigeon Peak
Found on the eastern fringes of Main Ridge Forest Reserve, Pigeon Peak is Tobago's highest point (572m). Offering more of a challenge than the leisurely stroll along Gilpin Trace, this is a hike we'd recommend hiring a local guide for. There are actually several routes you can take to reach its summit (depending on how tough you like it), but the main trail begins by tracing an old plantation road that cuts along an emerald hillside. Then, it diverts up a steep path that runs mostly unmarked through thick rainforest – this is where the guide is worth their weight in gold. It takes around three hours to reach the top but the island-wide panoramas at the summit are a rich reward for your efforts.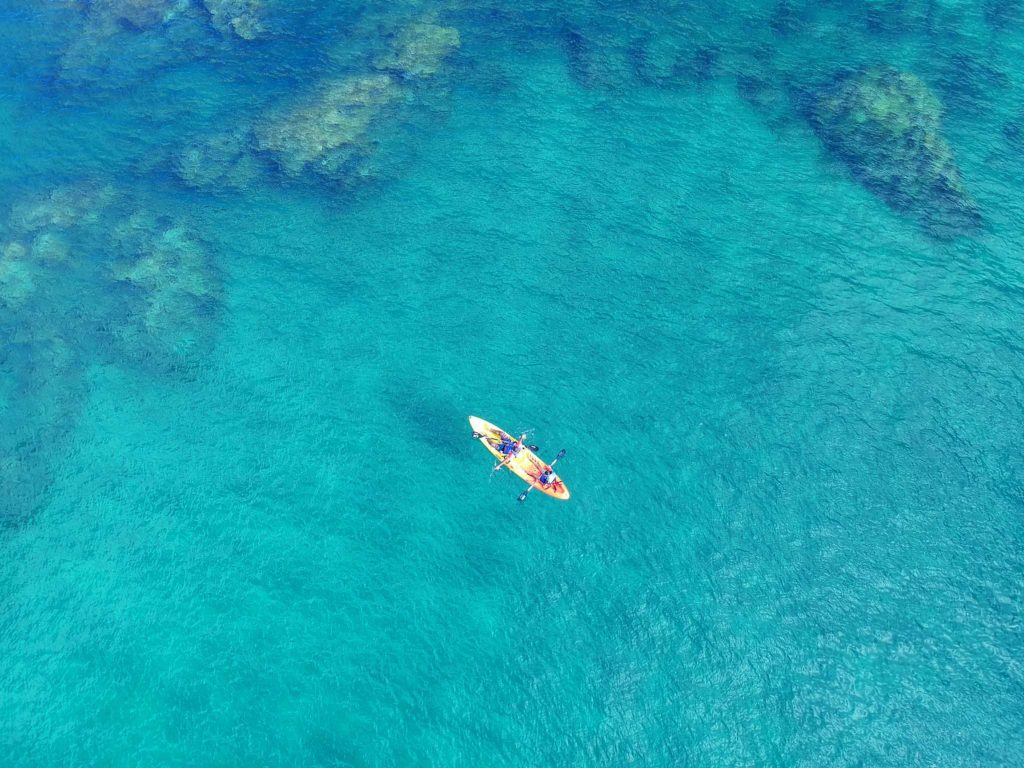 Stand-up paddleboard through a lagoon
Stand-up paddleboarding is one of the world's fastest growing water sports and Tobago is one of the finest places for a paddle in the Caribbean – both day and night. The millpond-calm waters of Buccoo Bay and its namesake reef are ideal for finetuning your skills while spying rainbow-hued marine life beneath the surface. However, it's after dark when the magic really happens. Next door to Buccoo Bay lies Bon Accord Lagoon, whose protected waters sparkle an electric blue thanks to its population of bioluminescent plankton. Every swish of your paddle is like flicking a neon-tinted switch in the lagoon and you'll feel like you're orchestrating your own watery light show. It's a spectacle of otherworldly proportions.
Explore a coral reef in a glass-bottom kayak
Buccoo Reef isn't just a great spot for stand-up paddleboarding but kayaking, too. Much of the reef's crayon-coloured corals and sponges lie only a metre or two beneath the surface, meaning snorkellers risk unwittingly damaging this fragile ecosystem. A paddle in a glass-bottom kayak solves all potential issues, its transparent hull affording you an access-all-areas glimpse of its mangroves, varied coral and scores of tropical fish while knowing you're in no danger of harming this marine world. It's also home to plenty of nesting seabirds, like whistling ducks, jacanas and southern lapwings. If the winds are gentle, you can continue paddling past the reef to Nylon Pool where, despite it being a mile offshore from the beaches of Pigeon Point, you'll find yourself only thigh-high in water. The pool's shallows are so clear it's given rise to the legend that a swim here will knock a decade off your age. Rent an SUV and drive the entire island
There are plenty of reasons for exploring Tobago under your own steam in a rented SUV: they drive on the left (the same as the UK) and its small size means the island is both simple to navigate and all of its sights are within easy to reach – although keep an eye out for the odd chicken, cow or goat crossing the road. The 30mph speed limit enforced throughout the island also allows you to explore at a steady pace. Despite its modest size, Tobago packs in its fair share of spectacular drives, with hairpin bends aplenty and hill-hugging roads akin to rollercoasters. Every time they reach the crest, though, you're guaranteed widescreen views of jade-coloured jungle and sapphire-tinted sea.